While most of the reports suggested Apple to start shipping Apple Watch this March, CEO Tim Cook has confirmed that the eagerly awaited first ever wearable from Apple will hit the streets from April 2015.
Earlier reports of March release smashed
Apple Watch was first unveiled back in September 2014 at the iPhone event. Though Apple didn't provide much detail on functionality and specifications it did generate a lot of fanfare among Apple loyalists. While Apple in its press conference continued to say they were eyeing an 'early 2015' launch, it was highly anticipated that it will be launched by March 2015 in-spite of low component production rates and other slowdowns. Some of the analysts even went ahead to forecast Apple has a target of shipping 2.8 million units of Apple Watch within March 2015 itself.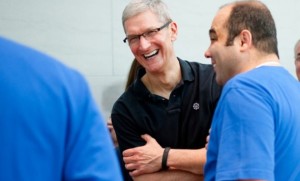 So it's Sweet April at last for ifans!
But, Apple CEO Tim Cook putting aside any such claim confirmed that Apple developers are working in tandem to make Apple Watch a delight and never-seen-before experience. While he confirmed that Apple Watch is right on schedule but still refrained back from giving a specific date. Though we are aware of $349 price tag for the lower end product; price of the high and mid-range iWatch are yet unknown. Pundits have opined the stainless steel version to price just below $1000 compared to the high-end gold variation's price to hover around $1200 or even more.
Well, as we are receiving reports from insiders that Apple initially had plans for a March release, but they are looking to use the extra month to acquaint their employees on the innermost intricacies of the new product. On a brighter but wishful thinking side, we can hope Apple is also paying attention to lengthen the nineteen hour or some battery life. Fingers crossed, isn't it? Apple has put in more than three years of extensive research into the project which according to Apple designer John Iye's own word 'one of the most difficult projects.' So, expectedly they would look ahead to fine-tune every aspect before making the launch official.