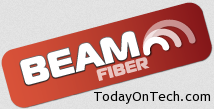 Beam Fiber is one of the broadband services in Hyderabad which provides a speed Broadband Internet at a very affordable pricing, and we would prefer that against the several other Broadband service providers in the Hyderabad city. The speeds of broadband internet ranges from 512 Kbps to 25 Mbps, and this flexibility gives the user a choice to select based on the budget they have for the Internet services.
Where the Internet dongles and other Broadband Internet services provide speeds of around 2 Mpbs at a price of Rs. 1200 a month, the Beam Telecom provides a whooping speed of 15 Mbps at even lesser price. There are multiple unlimited offers provided by the company, where after a Fair Usage Policy limit, the speed is reduced but still unlimited data can be browsed and downloaded by the subscriber.
Beam Telecom Broadband Plans and Prices
Unlimited Data Plans (w.e.f. Nov 17, 2012)

Charges in INR   

Plan
Speed
Monthly
Half-Yearly
Yearly
B-Max 450
512 Kbps
450.00
2600.00
5000.00
B-Max 660
3 Mbps
660.00
3630.00
6600.00
B-Max 1110
15 Mbps
1110.00
6110.00
11100.00
B-Max 1660
20 Mbps
1660.00
9130.00
16600.00
B-Max 2770
25 Mbps
2770.00
15240.00
27700.00
The maximum speed that a user can get through the Beam Fiber connection is 25 Mbps, and while the Fair Usage Policy (FUP) limit is set for a particular amount of download, there is no limit for the uploads and a user can upload unlimited data all the time. Below are the FUP limits, based on the various packages provided by Beam Telecom:
Fair Usage Policy (FUP)

Package Name
Old Speed
New Speed
FUP Limit
Speed Post FUP
B-Max 450
512 Kbps
512 Kbps
20 GB
256 Kbps
B-Max 660
1 Mbps
3 Mbps
20 GB
786 Kbps
B-Max 1110
10 Mbps
15 Mbps
30 GB
2 Mbps
B-Max 1660
15 Mbps
20 Mbps
40 GB
4 Mbps
B-Max 2770
20 Mbps
25 Mbps
60 GB
6 Mbps
How to get Beam Telecom Broadband Internet at your place?
You need to call the Beam Customer care at +914066272727 and give the details if you are looking for a connection in Hyderabad as this is the only place where Beam Fiber has got its services available.
If at all there is already the lines available in your area, the connection is provided within 3-4 days but if there is no setup already available in the area it can take around 2 weeks, and this all depends on the area and whether there are already any customers using the Beam Broadband service.
This is the page where you can enter the details for the team to contact you regarding a new broadband connection.
How to Pay Beam Internet Bills?
It's quite easy to pay bills to Beam Telecom via one of the three ways we have tried and paid bills through –
Online – The easiest way to pay the bills is online, by going to the Beam Portal and there is an option "Pay Bill" under "My Account"
Beam Office – Locate any of the nearest office and pay it by just mentioning the account number.
Home pay – The Beam Telecom guys would come every month to collect the bill if you don't wish to pay it online or by visiting their office.
Personal review – Is the Beam Broadband Service Good?
We've been using the Beam Telecom Broadband service since more than 2 years and it has provided a very good speed and a reliable service, with even notification for any maintenance or outage period. For any complains made for slow internet or connectivity issues, the company does send the technical team within 48 hours most of the time. This is a far better service than the You Broadband and few other services that provide the Broadband internet in Hyderabad.