There are several ad blocking tools and add-ons for different browsers, which block any type of ads and even the flash content. Social networking sites too are usually full of ads, and this would annoy the users when the concentration shifts to those ads automatically from the main area of focus. I won't talk about Orkut as it has only the Google ads which can be blocked with any of the Ad blocking programs, but with Facebook it is selective.
I like the Facebook ads, as most of the times it displays such ads that I click to reach the other pages within Facebook and they aren't annoying. But many don't like them too, and here is how you can get rid of the Facebook ads in your Google chrome browser. It can be done with the Facebook Ad Blocker extension for Chrome, which does the right job by making the page cleaner and removing all the ads displayed in the sidebar below the Facebook friends albums and notifications.
The ad blocker removes ads from the following pages –
Profile Page
Fan Pages
Group Pages
Photos Pages
Event Pages
Some Apps / Games Pages
Though it removes those facebook ads, some app developers are smarter and have a few iFrame ads placed in their app pages, and there the ads can not be blocked with this Ad blocker extension. This extension works in the background, and doesn't need any special functioning from your side. It is a pretty simple app doing the job you need. Download and install the Ad Blocker from here.
Note: There is a "Ad Block" extension for Chrome which helps in blocking all the pop-up, on-site ads like adsense etc. but many choose to have those ads displayed, and want to keep their social networking sites neat and clean. The Facebook Ad blocker extension is for that purpose.
Here is the difference you would see in the pages after the extension is enabled –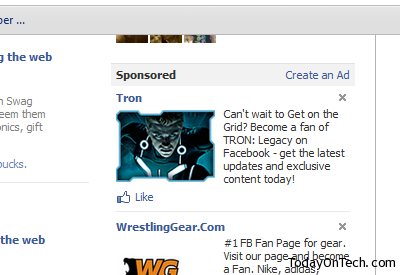 >