Droidcon is an International Android Conference that is held at many places around the world, and India is going to one of the venue places for the conference in November, 2011. The other few event venues lined up with Droidcon are London, Bucharest (Romania), Brussels, Amsterdam and Berlin.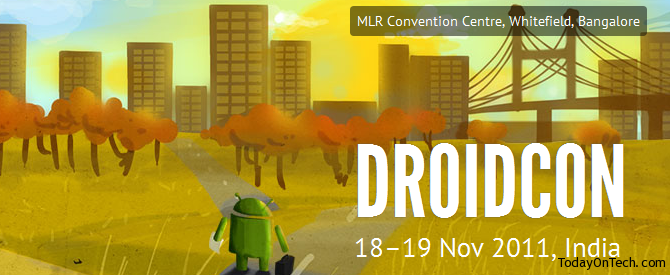 Citizenmatters reports:
Droidcon India is organised by HasGeek in association with Mobile Seasons GmbH. The event targets the growing android development community and is being organised in close co-operation with the Bangalore Android Group. Droidcon India will take place at the MLR Convention Centre in Whitefield, Bangalore. This is a brand new convention centre with top notch facilities including an 800+ seat auditorium and an overall venue capacity of over 1000.
The conference would be having 500 delegates and there would be several sessions which would run in parallel to one another, and 8 sessions per track would be running on each day. The fee for registration to the event would be Rs. 1800 per registration, and for students who show their valid student ID cards, it would be Rs. 900 per registration. Spot registration would cost Rs. 2200 each.
The event would be held at MLR Convention Center, Whitefield, Bangalore. The keynote speaker would be Diogo Ferreira of CyanogenMod. People can suggest topics for sessions, and they can try to talk at one of them and the selection of the sessions is based on the votes by people.