Here is a fast tip that may save some "unplanned" Siri-triggers. At this moment, you may make out that you can evoke Siri even while you have got your display locked down with a pass code. The long-push-home-button activates Siri even while your iPhone is locked.
And because of these activities, if the home button is pressed by mistake – in the handbag, in the pocket, or even while you hold the iPhone – Siri kindles and begins listening. The outcomes can be fascinating however pointless. Siri may send messages, make calls, switch on/off a settings toggle… the list is never-ending.
Here is how to avoid this
Different from Notification Center or Control Center, which include toggles in their particular Settings parts to stop them on the lockscreen, Siri does not boast one in iOS 7.x.  You need to reach it through other means.
Launch the Settings app
Hit on General
Tap on Pass code Lock (on iPhone 5s, hit on Fingerprints & Pass code)
Scroll down to the part that states permit access while locked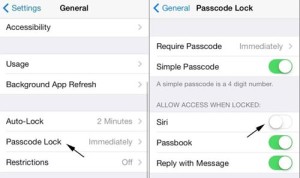 Switch off the switch for Siri
Leave the settings app.
As you can notice, it is actually an uncomplicated step. However, it is rather tucked away in the pass code preferences, which makes it tough to make out how to deactivate Siri on the lockscreen.
Deactivating Siri assists avoid accidental activates that switch on Siri. This is useful in two approaches: having Siri switched on by mistake can trigger different actions that you did not mean in any way (a message, a call etc.). Secondly, it avoids needless battery drain.
Other choices can as well be switched off
One of them is Passbook: once you obtain passbook-related notices that allow you use/add your cards from the Passbook application, you will not have to key in the pass code.
The other one is respond with Message, the choice that comes with each call in order that you can miss the call and send a fast message to the caller. Switching off this attribute will deactivate Reply with Message totally on the lockscreen. Once you obtain a call (and your iPhone is locked), you either reply the call or set a prompt.