Though call waiting is a vital feature, but sometimes it causes interruption to the users. If you use iPhones you will be happy to know that iOS allows you to disable this call waiting option. Before we get into the steps of disabling, check out how call waiting creates interruption.
How Call Waiting Interrupts
While you talk to a person over phone, sometimes you can hear beeps, which inform you that there is another call waiting for you. When you hear such beep, you can take a break from your ongoing conversation and look at the display of your phone for finding out who is giving you a call. If that call is important for you, you can simply put the first call on hold and take on the other call. After you finish your conversation, you can again switch over to the previous call that you put on hold.
Depending upon your requirements, you may find that such option that is available on your phone is not useful for you because you may become annoyed if you hear a beep sound occurring in the middle of your conversation. Therefore, you can avoid such interruption by switching off the call waiting option of your phone.
If you are an iPhone user, here are few easy steps that you have to follow for switching off call waiting option.
Step 1 – Firstly, you need to go to the settings menu of your iPhone.
Step 2 – In the settings menu, you will find "phone" option. Give a tap on it.
Step 3 – After tapping on "phone" menu, select "call waiting" option and wait for the loader to display the switch.
Step 4 – After you have found the switch, swipe it in order to switch off the "call waiting" menu.
This is how you can turn off the call waiting option of your iPhone.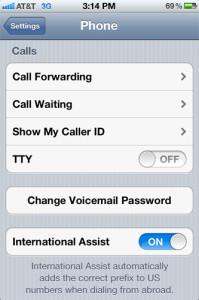 What Happens When You Deactivate Call Waiting Option?
When you deactivate call waiting feature, all your calls will be routed to your voice mail box automatically. Surprisingly, you will not miss any call unless a caller decides to disconnect his call before sending you a voice mail.
Switching off the call waiting menu can fill up your voice mail box at faster pace. As you will not get any notification, you have to regularly check the voice mail inbox to find out about persons who give you calls and you need to revert them or delete such messages to create space for fresh voice call messages. Or else, you may miss an important call in future.