Quite a good number of iPhone, ipad and ipod users keep on updating their firmware with the current new iOS 7 from the moment it was introduced to the market. Others with the iPhone 3GS and iPhone 4 still struggle to keep up the pace with the iPhone 7 in the provision of smooth, streamlined experiences that is pulling many users to that direction. In some cases, they need to upgrade has been forced by users who previously moved to iPhone 7 but due to a couple of challenges while using it, they look upon downgrading to iOS 6. More still, the need to try to fight the satisfaction deficiency likely to emerge since they will leave the iOS 7. This will work pretty well if you had saved some SHSH blobs at some point, in case you did not then you are force to stick more on iOS 7 is the only option.
While downgrading iOS 7 to iOS 6, the process is easy and simple since it only involves restoring an IPSW via iTunes just the same way it happens on iOS device. Although Apple says it's impossible to downgrade iOS 7 beta, you still can. This process has been looked upon to make it friendlier and before you move, this list indicates crucial things you need to have;
1. To download iOS 6.1.4 for iPhone 5 but in case you have an iPhone 4s or iPod 5, consider downloading iOS 6.1.3 and remember to save the IPSW file to your desktop for easier access.
2. The latest version of iTunes to install on your PC or Mac.
3. Lightning cable (for iPhone 5 and iPod touch 5) and 30-pin connector for iPhone 4s/ 4.
To begin;
1st step
You have to connect you iPhone or iPad touch to the PC or Mac then precede launching iTunes.
2nd step
From the pane on the left, select your device and click the iPhone button on the iTunes' top right hand corner.
3rd step
On the iTunes main screen, there are two buttons with the first one saying check for updates and the other one to restore iPhone. While on the windows you should hold down the left shift key on your keyboard to click restore iPhone option but if you are on OS X then hold down on Alt key.

4th step
The new Windows will appear and proceed by pointing it towards the IPSW file that you already downloaded for your iPhone or iPod touch when starting and click restore.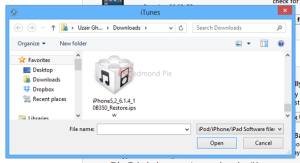 5th step
iTunes after verifying the IPSW firmware file with Apple, your device will automatically restore.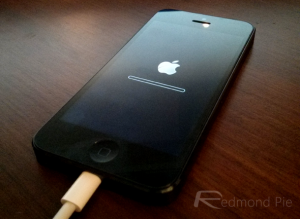 This restore process might take some time but you should not tamper with the steps hence, when through with keying in the steps, sit down and relax. Once the process is over you will have your device as 6.1.3 or 6.1.4 running up.