iOS 7 is the latest update to Apple's iOS version for the all iPad and iPhone, and also that if your device is not more than two years old then you can be easily able to upgrade to the new iOS 7 and get all the new features on your iPad as well. The iOS 7 is available for the iPhone 4 and the all new devices of the iPhone, it's also available for the iPad 2 and newer and also the 5th generation of iPod touch as well. Well today here we are going to tell you that how you can update iOS on your iPad. So let's have a look.
How to upgrade iOS 7:
There is an easy way to update your iPad to iOS 7 over the air (OTA) via Wi-Fi or with iTunes.
Well before upgrading your device you need to do many housekeeping jobs as well. 1st you need to update all the applications on your iPad since some apps won't work on iOS 7.
2nd step is that check the storage on the iPad. If you have free storage then  that's fine! Otherwise you would need to have at least 1.4 GB of memory for storing the download during the update temporarily. You can check the storage space on your device by going to the Settings app -> General-> Usage and find your storage details. After this process list will tell you which applications are using up your tablet's storage. Usually, it will be the photo related application because it is full of your images and videos.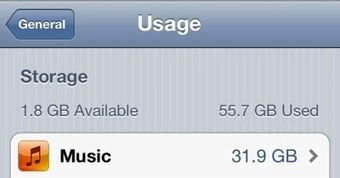 Finally you have to make sure that your iPad, iPod or iPod touch is backed up to iCloud or your computer via iTunes before performing the update. If anything go wrong then it is possible that you can lose any data that's changed since your last backup such as new contacts, documents, video, photos and many more.
Over the Air iOS 7 Update:
if your device is running iOS 5 or any previous OS then you will be able to update iOS 7 without needing a computer since iOS 5 added support for over-the-air updates. And otherwise if you OS is iOS 4.x then you will have to connect to iTunes and perform the upgrade. Update has been released now and you should see pop-up notification on your screen at some point after this date telling you that a software update is available now.
So if you want to force your iPad to check the update and update is available then tap Settings, General, and Software update. So if iOS7 is available then your tablet will be checking it and then you can follow the instruction on the screen. When prompted, tap Download the download the iOS 7 update. And once the iOS 7 update is finished tap install to upgrade iOS.