After the success story of Hybrid cars, it's time for Hybrid airplanes. Boeing has teed up with Cambridge University researchers to work on the first ever hybrid airplane engine.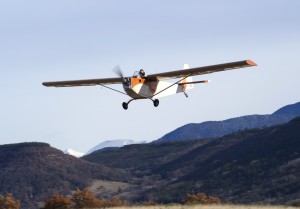 Hybrid airplanes: Initial tests encouraging
It's been more than a decade; hybrid four wheelers like Toyota Prius are eating up a sizable portion of commercial vehicles market. Cost-saving and drive for green energy has forced the auto companies to invest more time and effort into the development of more efficient hybrid engines.
A group of engineers from aerospace giant Boeing and Cambridge University have successfully test-driven the first ever flight of an airplane, running on a parallel hybrid engine. Extensive tests conducted by the group at Sywell Aerodrome, Northompton, UK include rigorous taking off and landing: when the power requirement remains maximum, followed by flights to altitudes up-to 460 metres; both exhibiting encouraging statistics.
The 140 kilo single-seated airplane running on a four stroke 7 KW Honda engine and a 10KW electric motor and generator, is capable to consume around 30 percent less fuel compared to same standard petrol engines.
Hybrid airplanes: Efforts and constraints
Since winning of NASA's SUGAR contract, Boeing has invested heavily in the research of subsonic commercial airplane technology; eyeing 2030-2050 to switch over to cleaner, quieter and more fuel-efficient flights. Boeing is working on SUGAR (Subsonic Ultra Green Aircraft Research) in an effort to develop hybrid electric engines running shorter duration and fossil fuel for longer duration; simultaneously charging 16 Lithium-ion polymer batteries.
At its present status, the only constraint is technological; the existing ones will only allow an airplane of up-to 450 Kilos to take-off properly, or limits a commercial carrier to fly for just ten minutes on batteries alone.
While people at Boeing and Cambridge are researching for innovative and more viable solutions, do check our sites for all the latest updates on Hybrid airplanes.