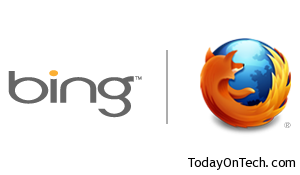 Microsoft seems to be trying hard to get more user base to the Bing search engine, which still isn't competing well enough against the Search engine giant Google, and so the most popular browser Mozilla Firefox is being launched in another version by the Windows maker with the default search engine being Bing in it. The integration of Bing into Firefox would not just help Firefox get some extra revenue, but now Google would get a real big competitor with Internet Explorer and Firefox both having Bing as the default search engine for any keyword searched by users who don't care about the search engine they are using.
The download site by Microsoft explains:
When you add Bing to Mozilla Firefox, you're bringing the ability to make informed decisions right to your browsing experience. Whatever you're looking for, from where to go to what to do, Bing helps make decisions easier.
You won't need to do anything else, but just visit this site and select "Add Bing to Firefox" and you would be redirected to the next page saying:
Thank You.
Thanks for adding Bing to Firefox. Better decisions
are now yours for the making.
And from there, the default search engine set for your Firefox browser would be Bing. Good try Microsoft, but I would still love the Google search engine with timely updates giving me no suggestions but better results.