MyLife is not just one of those common social networks where you add friends, make new ones and interact with them all the day, but you have a fair chance of finding your old friends whom you were not been able to be touch with, since years after you had been away from your school age. MyLife.com was formerly called Reunion.com and it was basically an idea by Jeffrey Tinsley, who had met his wife at their high school reunion and got the idea to make something that comes to use for everyone around.

With more than 50 million users, MyLife isn't just relying on itself but gives the users an added advantage by providing an option to link their account with their Facebook accounts to make things easier to find friends and make their networks larger. Not just the personal information is available, but a user gets to know who had searched for them, and who all viewed your profile when you were not around.
One of the users explains about the network:
I use MyLife to find people from my past who I want to talk to again. The site is good to get basic information from. If you know the name and location of the person you are looking for, then you can find out almost anything about them. One of the things that I like about this site is that you receive a notification sent to your email if someone else has searched for your name. The site is free. This is one of the things that attracted me to MyLife. I can also limit the amount of information that I want people to see about myself. If I only want my name and city shown, then all I have to do is make my profile private unless the other person knows specific details about me. I can also share the information that I have and that I have received on social media sites so that my friends can help me search for people from my past as well. Fortunately, I was able to find the one person I was looking for. I sent my information to that person, and I received a message from them. I could not be happier with the service that I signed up for.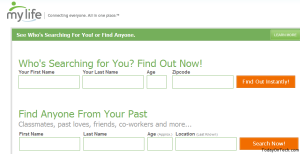 It is not just MyLife along with Facebook, but it has already tagged up along with some of the best social and business networks like Wink and Zoominfo to sync the contacts and friends for every profile, and thus, searching for old friends is the easiest through MyLife.
Searching for people can be done alphabetically, and the searching can be done based on the name, approximate age and the last known location of the person. Apart form that, if a user is trying to check who all searched for them in the near past, they can do that based on the Name, Age and Zip code for which someone searched.
With MyLife, the location based searching of people and profiles is a lot easier than just searching by the name and going through the thousands of profiles which have the exact same name of the person who you are looking for.