The panel discussion in the TechSparks, Hyderabad has seen the four best people on the stage along with Shradha Sharma, Founder, YourStory.in who is behind TechSparks.
G V Ravishankar, Managing Director, Sequoia Capital
Jayaram Pillai, Managing Director, National Instruments (India, Russia, Arabia)
Vimal Abraham, Strategy & Marketing, ISV & Developer Relations, IBM India
Phanindra Sama, Founder, RedBus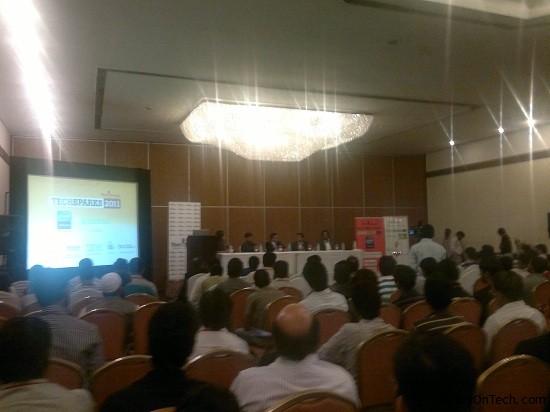 From an entrepreneurs perspective, you need to talk about your stuff (to everyone):
Jayaram: National Instruments was started 13 years ago. We started with engineering products, the stuff that helps the Engineers in building systems. We can be contacted when you need a support of engineers, or if you are an engineer. We support startups that have an engineering field.
Vimal: I do the marketing stuff for IBM. We could do for a whole array of companies, and help the companies build the products. We support startups that have global ambitions, or they can solve any problems in real life. IBM Global Entrepreneur launched last year, is a program through which we support the programs in the early stages of the products in all the perspective. These include the product, finance and marketing perspective. We are essentially in the business of building a smarter planet.
GV Ravishankar: We support and dream along with the entrepreneurs. It supports the early stages of the startups, and that can be upto a few millions of INR. The lowest we have invested is a Crore rupees. Show us you have a potential, and have setup a company which you can run in a long term, we would support you. Just don't enter in and tell us you are doing a job and would quit it, if we are investing in your ideas. It isn't necessary that you have a good background in the past. You can be from a small world earlier, and have faced problems and solved them, then reaching us to make that problem solving bigger and helpful for the entire world.
Phanindra: In our 3 months of start, we got 3 VCs coming and asking for us and our profile. We were ourselves. We used to Google on how to go meet people, how to have a good attire. But in the end, we went with our own ideas. We were shocked to see people asking for 3 Crore rupees and investing that, they would come for a higher capital the next year. But we went on with our own plans. Once you have the right person on the board, it just goes on. We are a team of 20 people.