Apple is launching the next iPad, that is confirmed as they had listed the Apple iPad event on March 7th, and the next one is probably going to be called the iPad HD. We have been watching the best tech keynotes from Apple itself, and it was Steve Jobs in the past, but as the world misses him now, Tim Cook is doing a good job bringing enough enthusiasm for people to keep themselves interested in learning the new stuff about the Apple gadgets.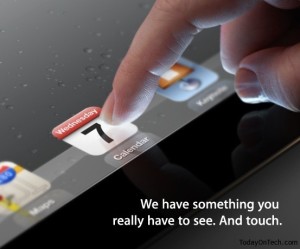 Head to the Apple events site for the live streaming of the iPad HD launch.
There are various other places where one can watch the live blogging or live streaming of the iPad event, tonight.
Apple doesn't allow the live streaming of the event in other places than their browser in the laptops or computers that run their Mac OS X. These are the times for people to be online and check for the event and the launch of the next generation iPad:
07:00AM – Hawaii
10:00AM – Pacific
11:00AM – Mountain
12:00PM – Central
01:00PM – Eastern
06:00PM – London
07:00PM – Paris
09:00PM – Moscow