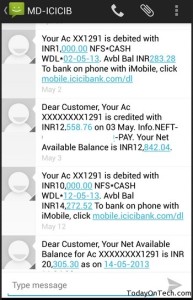 The SMS alters that were being received by the users for the various transactions, account balance and the other changes in the account of the ICICI Bank account holders, would now be charged with Rs. 15 per quarter and that would include all the alerts that were sent to the registered phone numbers of the account holders.
This is what the website says:
Now stay connected with your ICICI Bank Account through our SMS Alert Facility. With this alert facility, you will receive an SMS on your registered mobile number informing you about your latest banking transactions like credit or debit, cheque return etc in your savings account.
Please note with effect from May 1, 2013 all Savings Account customers availing Alerts facility through an SMS will be charged Rs. 15 per quarter (inclusive of taxes).
For what the SMS charges are applied:
SMS Alerts from ICICI bank:
Salary credit
Account getting debited – When your bank account is debited Rs. 5, 000 or more, as specified by you
Account getting credited – When your bank account is credited Rs.5,000 or more, as specified by you
ATM Cash withdrawal – Whenever you withdraw cash at ATM, irrespective of amount
Cheque return
When your balance rises above a limit.
When your balance falls below a limit.
There is an SMS alert facility which has to be activated by the user, and if that is de-activated by them, then you would not be able to receive the SMS alerts for the credit transactions into your savings account, and the debit transactions in the account, except for the transactions done through the Debit / ATM card and the transaction done on the ATM, and for the NEFT and RTGS transaction once funds are credited in the beneficiary account.
The NRI customers who were lucky enough to receive the SMS alerts in some or the other way, will have an option of just receiving the alerts for their account transaction through email.