Every mobile phone company has it's own products and their syncing apps for the computers, to make the transfer and browsing of the mobile phone files on the computer easier. For the Apple products like the iPhone, iPad, iPod touch etc. there is the Apple iTunes software helping with everything. Similarly, the other phone brands like Nokia and Samsung have their own PC Suite, Ovi suite and Kies etc. softwares helping in syncing of the devices with the computers. The Microsoft team had launched the Windows Phone 7 operating system for mobiles a few months back, and they had given a Windows Phone 7 connector for Windows then. The Windows Phone 7 mac connector was due and now it is released, through the Mac App Store.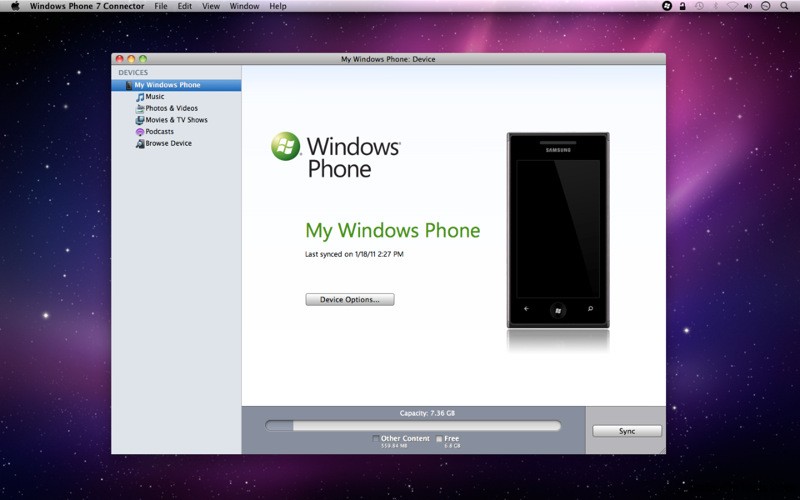 Earlier there was a problem with syncing of the Windows Phone 7 with the Mac, so now here is how you can sync the phone –
Download the Windows Phone 7 connector – From the Mac App Store – Check here.
Install the app and it would be listed in the Application folder of the Mac hard drive
Once you connect the phone with the Mac OS through the USB cable, you need to open the Windows Phone 7 connector app, it will identify the device and you would be prompted to sync the different media individually if not all at once.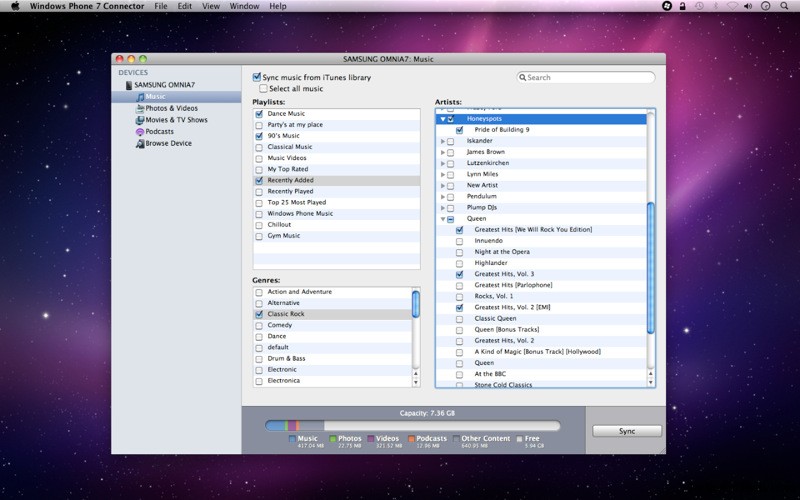 Here is what all can be done with the Windows Phone 7 connector for Mac –
Sync music, movies, TV Shows and podcasts, from your existing iTunes library, to your devices*
Sync photos and videos, from your existing iPhoto library, to your devices
Retrieve photos and videos, taken on your Windows Phone, and automatically import them into your existing iPhoto library
Browse and preview media items located on your devices
Download and install operating system updates for your Windows Phone (as applicable)
Requirements for the Windows Phone 7 Mac connector –
Windows Phone 7 device (any carrier) or Zune HD
Mac OS 10.6.6 or higher