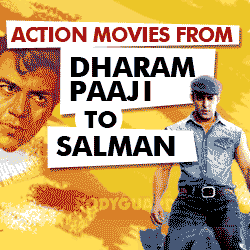 BigFlix is one of the best online movie streaming websites that would let one watch the movies from the various industries, i.e. Bollywood, Hollywood and the various other Indian regional movies. As a part of promotion, the website is giving the first month of the subscription to watch unlimited movies online for just Rs. 1, and from the next month it would be charging Rs. 250 per month, but if unsatisfied, the user can cancel it within the first month itself.
To get this offer, click here and you would be taken to the Bigflix page where you will be charged Rs. 1 for the initial month subscription, and you would need to pay via credit card. I'm not sure if they would be accepting any other payment methods, but as of now it's just Credit card through Visa, Mastercard that I see and there's a good option to cancel the subscription throughout the month.

The various sections in which BigFlix offers live streaming of the movies legally include:
Hindi
English
Telugu
Tamil
Malayalam
Bhojpuri
Bengali
Kannada
Marathi
Punjabi
Gujarati
There are more than 2000 movies in the total catalog as of now, and not every new movie is present but still for those who are looking for the cheapest option of watching a movie online without downloading through privary or torrents, can see BigFlix as the best option.
Advantages of BigFlix:
Watch movies by live streaming through 3G on your Android phone: Free App Download
Watch movies by live streaming through 3G on your iPhone: Free App Download
The movies can be watched anywhere from your Phone, Tablet Device, Laptop or computer.
The movies paused on one device can be continued from the same point by logging in from the same account on any of your other device later on.
Search based on the movie name, Actor name etc.