WP Status Notifier is another plugin for wordpress that is beneficial for the guest bloggers and for those blog admins who allow guest posting at their blogs. Just like the Peter's Collaboration Emails, it too sends the emails to the blog contributors, about the status of the post that they wrote and submitted for review. There are options to send mails to the contributors whether the post has been approved or rejected. When there are multiple contributors and multiple editors for the blog, this plugin is pretty much useful for the post notifications.

The plugin even has the options in the settings page to set one or more email addresses to send a mail to, to let them know about the status of the pending posts. Here are a few other features of the WP Status Notifier plugin –
The plugin sends email to one or more email addresses that you set, for the notifications. So you don't need to keep checking about the status of the post manually.
Includes a link in the email to edit and/or approve the post in the notification email.
Once the post is published and approved, the email will contain the link to the post, and also information about who approved the post.
The plugin requires no database access and adds almost zero overhead.
You can choose whether to send a notification of every status change of the post, to the contributor.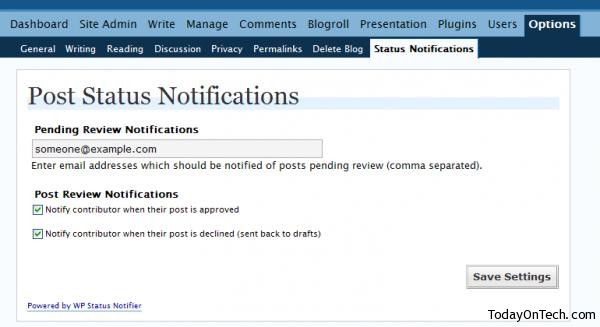 This is a plugin lot simpler than the Peter's collaboration emails, but compromises with a few things. If you want to keep things limited to the post status notifications, you can use this plugin.
You can download the plugin from here. You just need to upload the plugin to your server and install it, and activate it.