HTC has launched their flagship model with the Windows Phone 8 operating system, with the nomenclature HTC 8X, which has got a 4.3-inch capacitive touchscreen, and a lot better and unique design than the previous devices from HTC. The HTC 8S is a low specs model, and with a lesser pricing, for the users who have a strict budget in mind but would want to play around with the WP8 interface within an HTC body.
These devices would surely be a good competition to the Nokia Lumia 920 and Lumia 820, which were recently announced as the flagship devices with WP8 operating system, but the Lumia devices are quite thick and heavy, while HTC has made all the efforts to keep the thickness quite less.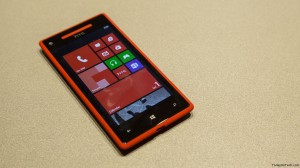 The HTC 8X has the following specifications:
4.3-inch touchscreen
1.5GHz processor with 1GB RAM
Beats Audio integrated
16GB storage, non expandable
8-Megapixel rear camera, 1080p video recording
2-Megapixel front camera
4G LTE connectivity, NFC
1280 x 720 pixels screen resolution
1800 mAh battery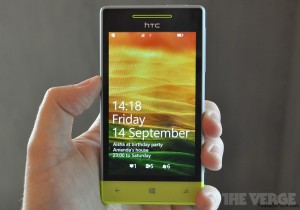 [Image Source: TheVerge.com]
The HTC 8S has the following specifications:
4-inch Super LCD touchscreen
1GHz processor with 512MB RAM
Beats Audio integrated
4GB internal storage, expandable through MicroSD card
5MP rear camera, 720p video recording
No front camera, no NFC
800 x 480 pixels screen resolution
1700 mAh battery
Colors HTC 8X would be coming in:
California Blue, Graphite Black, Flame Red and Limelight Yellow
Colors HTC 8S would be coming in:
Domino, Fiesta Red, Atlantic Blue, and High-Rise Gray
Both the devices would be launched in the market in November, and the pricing would be announced at the same time. The Windows Phone 8 operating system has got a lot of changes recently with several customizations possible, unlike the previous versions. There are several carriers in the US and UK, through which the HTC 8X and 8S would be coming in for sale.
What would keep the HTC devices ahead of the Nokia is the design and the thickness, but Lumia 920 has got its own suite of Maps and a few extra options of making the interface better, which again would make it a winner against the 8X, but we can't confirm until the phone enter the actual market.