Whether you are into playing Minecraft or Qbert on your home computer, there is no denying that part of the experience of playing are in the sounds that you hear. No one wants to listen to Battlefield 3 through mediocre speakers or plain old ear buds, right? If you want the best gaming experience possible, then you have to work a little bit to get it.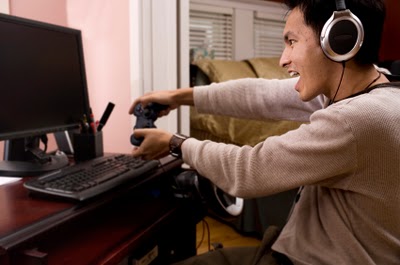 Take a look at some of the ways that you can help to turn your traditional computer sound into a better PC gaming experience.
Sound Card – Improving the quality of your gaming experience can be as simple as changing the sound card of your PC to a newer and more gamer-friendly model. Your sound card is responsible for converting digital and analog signals produced by your computer so that you get better sound operations and improved quality. Replacing your sound card might sound somewhat daunting, but it is not as complicated as it sounds. Many gamers are able to install it on their own with some guidance. If you are looking to find one of the best sound cards on the market to improve your gaming quality, take a look at TopTenReviews list of the best.
Speakers or Headphones – Typically the first thing that most gamers will replace when they want their games to sound better are the speakers or the headphones that they listen to their game from. Some gamers opt for noise-cancelling headphones, headphones with a microphone (depending on the types of games you fancy) and wireless options that allow you to get comfortable and get into the game. If you don't have restrictions on your listening, then you might choose to update the quality of the speakers that you use so that you hear the special effects sounds the way they were meant to be heard.  A gaming grade speaker system is a common option of many that will create a movie theater type sound, including bass, while you play your game.
Audio Enhancement Software – More and more audiophiles are taking advantage of audio enhancement software downloads, like SRS, that help to perfect the sound that comes from your PC and game. Most of this software adds bass, 3D surround sound, eliminates those annoying spikes in volume and can be used for more than just gaming. This is a great place to start improving the quality of your listening as you game because some companies offer a free version of their software that allows you to improve the quality of your audio to see if you truly notice a difference before you officially have to purchase.
While there are many ways you can help to make your gaming experience that much better, most of us can't do them all at once, as that would be a hefty price tag. But, slow improvements in the quality of your PC audio and you can certainly start to see a difference in the way you play and the excitement even Qbert can generate.