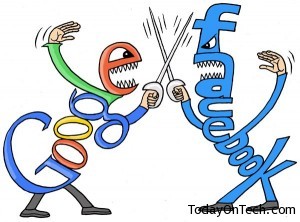 Google plus is enjoying the success what it could have never thought of. Even for a matter of fiction also, no one would accept that Facebook is up to some copy cat stuff from Google Plus (also termed as G+). But fiction apart, it is a fact that Facebook is really bringing up some of its features those had been wrapped under options previously. Google+ has fuelled its rival to pace up with them. Now these options have come upfront similar to the way G+ has it.
One change announced by Facebook recently is an improved drop-down menu of "in-line" options to control which groups of friends see each posting. This could eventually rival Google's "Circles" feature in its social network. While initially limited in its scope, Facebook said this control would eventually be extended to make it easier for users to share information with sub-sets of their friends.
Here's an excerpt:
"You have told us that 'who can see this?' could be clearer across Facebook, so we have made changes to make this more visual and straightforward. The main change is moving most of your controls from a settings page to being inline, right next to the posts, photos and tags they affect. Plus there are several other updates here that will make it easier to understand who can see your stuff (or your friends') in any context. Here's what's coming up, organized around two areas: what shows up on your profile, and what happens when you share something new."
Sound familiar? The sincerest form of flattery, perhaps?
Google+, on the other hand, has come up with great feature like Circle, Hangouts, etc. It has grown rapidly in a short period of time. Some people are already claiming that Google+ is far better than Facebook.
Here are some reasons to let you know why G+ is better than Facebook.
Search more easily on Google+:
Google is the biggest search engine provider. It has added this feature which enables the user to search according to its own needs. Google + service named Spark optimize its search engine to provide instant search for finding stuff you want.
Strict division for individual & group users:
Google has made it clear from the very beginning that it is not going to allow business houses to have their account in it. Only personal & single users are allowed .The Company has removed some of the biggest company, brand and news profiles on Google Plus including that of IBNLive.com, Mashable and Ford. Google had earlier asked businesses not to create Google+ profiles as the company was in the process of working on a business-specific feature.
This sort of action will definitely reap huge benefits for the company in the long run which Facebook has failed to capitalize on.
Personal Data:
On Facebook, you are bound to make all your personal data public. Also it's very hard to permanently delete a Facebook profile. Google+, on the other hand, allows you to pick up all the data you have put on the profile and just walk away.
This is done by a tool called 'Data Liberation', another clever trick from Google+ to hook up customers.
Congregation of all Google Services:
Ever wondered how easy it would have been if all our requirements like mail, surfing the net, social networking in one place. Google+ has pondered upon this idea and made all services under platform and no requirement of switching to any other account.
Grouping of our friends:
The concept of 'Circles' is the best feature in Google+. This feature can be compared to our real life. Every day we interact with hundreds of people but not always in the same way.
Google+ lets you create different circles. For example, you can create circle for your family, friends, work, etc. The biggest advantage is that you can share the things with the circle that you want and the other circles won't ever know of it.
Phone to Desktop:
We all know Google has its own mobile phone OS "Android", which it will be using to the maximum for Google+ with enhanced apps and user accountability will be counted.
Google's Past Experience:
Orkut. Google's earlier venture was quite a hit in India & Brazil before Facebook barged in. So Google knows its past mistakes and has sufficient remedy left for its new Google +.
Author Bio:
Sandipan Mukherjee is a 23 year old blogger from Durgapur(India). He is a Computer Engineer and currently pursuing MBA in Marketing. He is the owner of Crystal Articles. He loves to write articles related to Blogging, Tech and Social Media.