The ICICI Bank Silver Smart Shopper Debit Card is the next level to the normal Debit card where the card holders are benefited with a few more features. Many privileges are provided to the bank account holders who have been using their ICICI account since long, and have got an option to upgrade to this Smart Shopper Debit card from their traditional debit cards.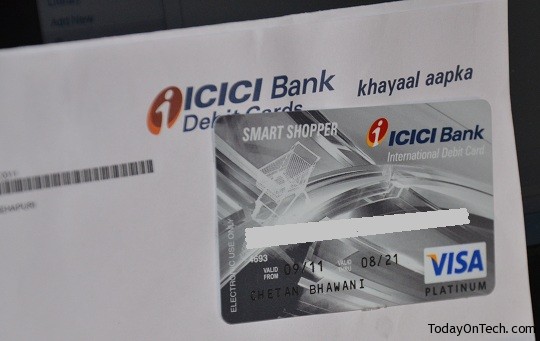 Here are the benefits of the ICICI Bank Silver Smart Shopper Debit Card –
Withdrawal limit & transaction limit – The limit is increased, to Rs. 25000 per day of withdrawal limit and the transaction limit being increased to Rs. 35000 per day, the rules applicable from October 1st, 2011.
Online Transactions – Using this card, all the online transactions can be carried out, but you need to be registered with the "Verified by VISA" for the same. And for the online transactions too, the daily limit is of Rs. 35000.
Surcharge for Fuel at HPCL – If at all you make transactions in the HPCL petrol stations using this card, you would be getting a 2.5% fuel surcharge.
Insurance – Air Accident insurance of Rs. 50000 and purchase protection of Rs. 25000.
Payback rewards with the Smart Shopper Debit Card:
Payback is a way to earn rewards by spending nothing extra but earning credits. When you transact using this debit card, you can get 1 credit per Rs. 100 spent, and the number of credits depends on the merchant and their location.
How to Upgrade to ICICI Bank Silver Smart Shopper Debit Card:
Usually the bank contacts the account holder with an option for upgrading to this card, but if you didn't receive any letter or call, you can contact the bank branch where you have your account, and there you can ask for the new debit card. You would be contacted soon with the confirmation and within a few days, the Silver Smart Shopper Debit Card would reach your place.
How to start using ICICI Bank Silver Smart Shopper Debit Card:
You would receive an ATM PIN through post, and once you get that you need to make a first transaction in an ATM, and once you do that, your previous card would be automatically deactivated within the next 48 hours.
If at all the card ATM PIN hasn't reached your place, you can call the ICICI 24-hour customer care and get the pin through the customer care IVR.